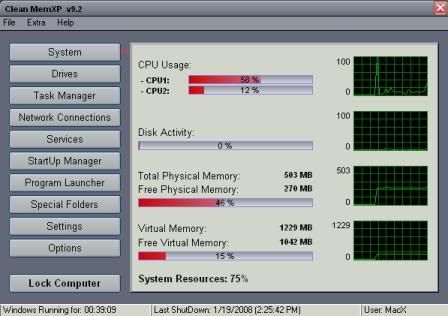 Clean MemXP is a free system tool to improve system performance. With right click you have the ability to use many extra funcions (Shut Down-Restart windows, Empty Recycle Bin, Screen Saver,Hide-Show Taskbar and Desktop, defrag memory).
Here are some key features of "Clean MemXP":
• Watch system (CPU usage, Free RAM,Virtual Memory, System Resources). Option to showing Free RAM and CPU usage in an icon to System Tray.
• Show informations for all system disks amd drives.
• Watch Active Processes and Programs.
• Manage Windows Services.
• Manage Windows StartUp Programs
• Show and explore Special Folders of Windows.
• Access hidden commands of Windows, like hide- show desktop, taskbar, enable- disable Start button .
Download:
http://rapidshare.com/files/85297606/Clean_MemXP_9.2.rar
Mirror:
http://w15.easy-share.com/15674491.html
»»  read more